Jobless older workers: It's different this time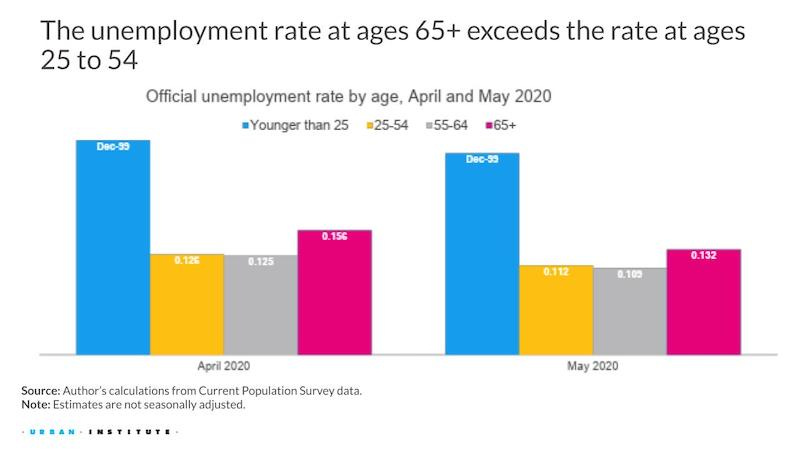 In most recessions, older workers are less likely to lose their jobs than their younger counterparts. But older workers who do become unemployed tend to be out of work much longer than their younger counterparts, and they often go back to work for significantly less pay.
That certainly is how the labor market played out in the Great Recession that began in the fall of 2008. But this recession is looking different.
The U.S. Department of Labor released its unemployment report for May today. The overall jobless rate fell to 13.3 percent from 14.7 percent in April, which certainly was welcome news. But a trend first observed in April persisted in May - the jobless rate for workers over age 65 is considerably higher than for younger workers.
The chart above, prepared by Richard W. Johnson, an economist and director of the program on retirement policy at the Urban Institute, illustrates employment by age looked in May. For workers age 65+, the jobless rate was 13.2%, several percentage points higher than it was for workers age 55-64 (10.3%) or those age 25-54 (11.2%).
This 65+ gap is one of the largest since record keeping began in 1948, according to Johnson.
The jobless rates I just cited are based on a household survey conducted by the U.S. Bureau of Labor Statistics. Johnson thinks that survey undercounts the true unemployment rate due to technical survey issues. Correcting for those issues gets us closer to a true unemployment rate, and while the details for May are not yet available, Johnson discussed the April figures during a recent webinar sponsored by ReLab at The New School. These figures attempt to capture additional joblessness due to COVID19 that the standar BLS survey likely is missing.
Here's how the April numbers looked, by age group: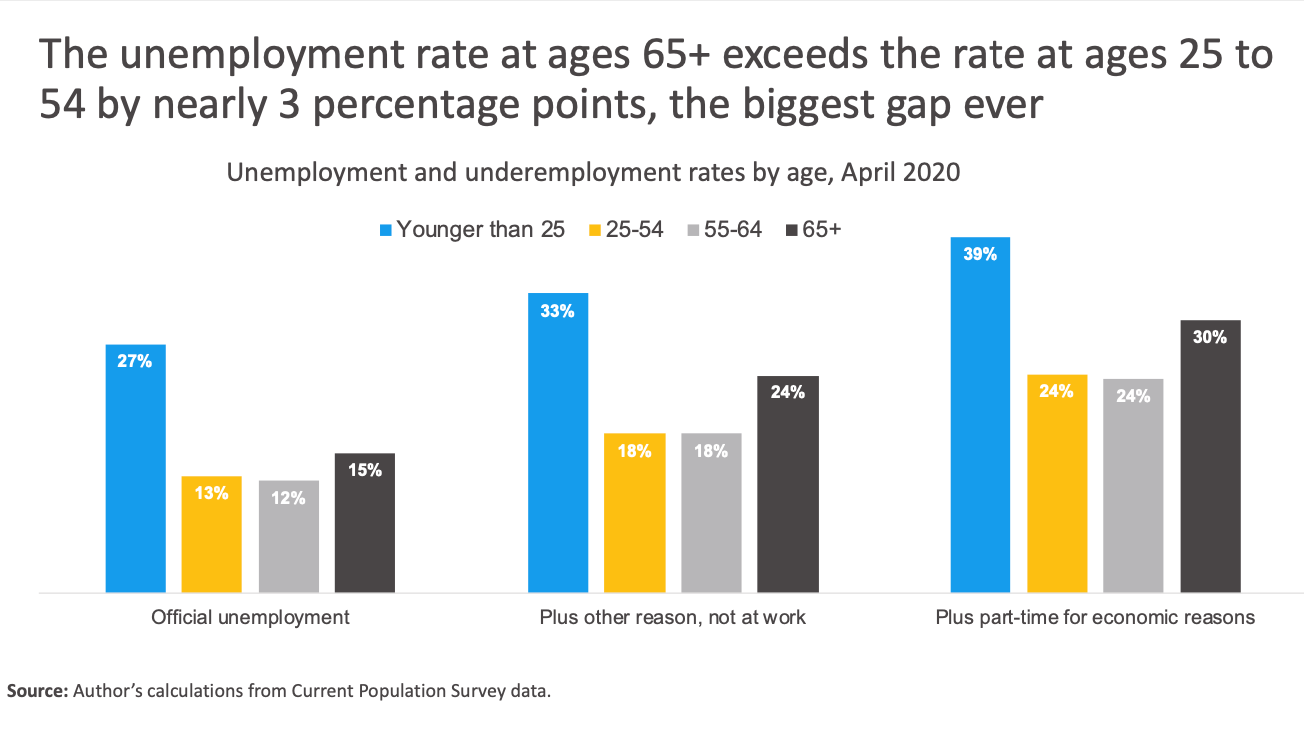 You can see that the jobless rate for 65+ workers probably was somewhere around 25% to 30% in April; for workers age 55-64, it's likely somewhere north of 20%. Those figures may have dropped a bit in May.
Economists are debating what shape an economic recovery might take, but for workers close to retirement, job losses will last at least a couple years, and that will be plenty disruptive no matter how quickly the economy rebounds.
Before the pandemic, roughly one-third of workers retired earlier than planned, research shows. The most common causes for unexpected early retirement were health problems and job loss. More Americans had been planning to work longer to improve their retirement outlook, but it really looks like the virus has upended that strategy for many. I'll be doing some further reporting and writing about this in the weeks ahead.
RetirementRevised.com guide: Timing your Retirement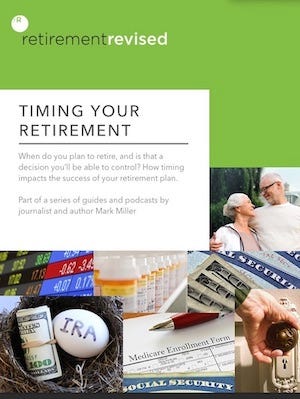 Speaking of working longer - if you're a subscriber, check out my recent guide on Timing your Retirement. This guide gets into the details on how timing impacts your retirement security. You can find it on the newsletter guide page for paid subscribers.
If you haven't subscribed yet, give it a try - $60 annually or $5 per month, no obligation and feel free to cancel at any time. You'll have access to all of my newsletter content and podcasts, plus all of the retirement guides, including:
Claiming Social Security

Transitioning to Medicare

Selecting Medicare plans

Aging in Place

Managing the cost of health care in retirement

How to hire a financial advisor
Click the little green button below to subscribe, or here to learn more about the newsletter and podcast.
Recommended reading this week
More people take advantage of CARES Act to tap into retirement savings . . . Did mom take her medicine? Keeping an eye on elders in the quarantine . . . Six work-from-home gigs in the pandemic . . . What the pandemic has meant for two older "essential" workers.