Nov 7, 2019 • 25M
A key retirement choice: Original Medicare or Advantage?
Journalist and author Mark Miller on getting retirement right - featuring downloadable guides and podcast interviews with nationally-recognized experts.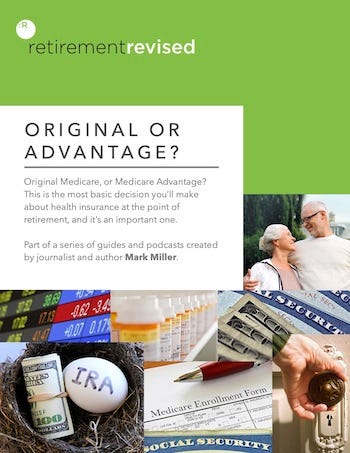 Original Medicare, or Medicare Advantage?
This is the most basic decision you'll make about health insurance at the point of retirement.
If you opt not to join Original Medicare at that time, you forego the preexisting condition protections offered in Medigap supplemental policies. Medicare Advantage can save you money on premiums, but Original Medicare remains the gold standard for its flexible access to providers and predictability of total costs over your lifetime.
The latest in my series of retirement guides and podcasts addresses the Original v. Advantage choice. The guide is available exclusively to paid subscribers to the newsletter; the podcast is out there for everyone to hear. My guest is one of the nation's top experts on Medicare - Dr. Gretchen Jacobson, an associate director with the Kaiser Family Foundation's Program on Medicare Policy. Much of Gretchen's research focuses on the Medicare Advantage program.
In our discussion, Gretchen reviews the basics on enrolling in these two Medicare options. We also review the differences in access to health providers with these two options, the trade-off on costs, and the overall plus/minus of both approaches. Listen to the podcast by clicking the player icon at the top of this page.
If you haven't subscribed to the newsletter, it's never too late. You'll get access to the new Medicare guide, plus guides that already are out on topics like claiming Social Security, how to hire a financial planner and aging in place. And, you'll be doing your part to support unbiased, independent journalism.
You can subscribe by clicking the little green button below, or by visiting retirementrevised.com/enewsletter.
Chicago readers: interested in co-mentoring?
For Chicago-area readers of the newsletter - I wanted to bring to your attention Ageless Innovators, a cutting-edge program that connects successful innovators across generations and across businesses to provide reciprocal learning.
Ageless Innovators is seeking applicants for its third cohort of co-mentors; the idea is to build intergenerational community and relationships built around the value of diverse perspectives. Co-mentors in the program receive memberships to The Village Chicago and Chicago Innovation, as well as tickets to attend monthly events.
All ages are welcome to apply - the deadline for applications is end of business on Friday, November 22nd. Click here to learn more; fill out an application here.