COVID19 could do a number on 2021 Social Security COLA and Medicare premiums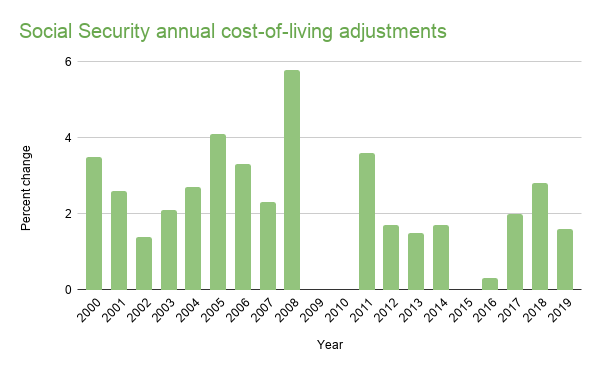 Next year we could see one of those odd "hold harmless" premiums for Medicare Part B - that is, a year when the premium increase is larger than the Social Security cost-of-living adjustment (COLA).
By law, the dollar amount of the Part B premium increase cannot exceed the dollar amount of the COLA, a feature that ensures net Social Security benefits do not fall. The hold-harmless provision applies to the 70 percent of the Medicare population enrolled in both programs.
It's too early to say with certainty, but the Part B premium is likely to jump substantially next year due to higher healthcare costs related to COVID19. Meanwhile, the virus-induced economic downturn is producing strong deflationary pressures - the consumer price index fell 0.8 percent in April, the largest single-month decline since 2008. If that keeps up, the COLA for 2021 would be zero - benefits would stay flat. 
The Senior Citizens League (SCL) already is forecasting a zero COLA next year.
For Medicare enrollees who also receive Social Security and pay the standard premium ($144.60 this year), the hold harmless provision would keep the Part B premium at that rate for 2021. They would be subject to larger "catch up" increases in later years. 
Meanwhile most other Medicare enrollees (about 30 percent) would be subject to a higher premium next year. That group includes new enrollees, anyone on Medicare who has been delaying their Social Security claim, high income beneficiaries subject to premium surcharges and retired public sector workers who don't receive Social Security.
The SCL's annual report on inflation and seniors finds that Social Security benefits have lost 30 percent of buying power since 2000.
The Part B premium was flat during the years of the Great Recession and even declined substantially in 2012, but it's been rising sharply since 2015 - it's up nearly 40 percent from that time through this year, when the standard premium stands at $144.60.
Nursing home infection rates were sky high before COVID19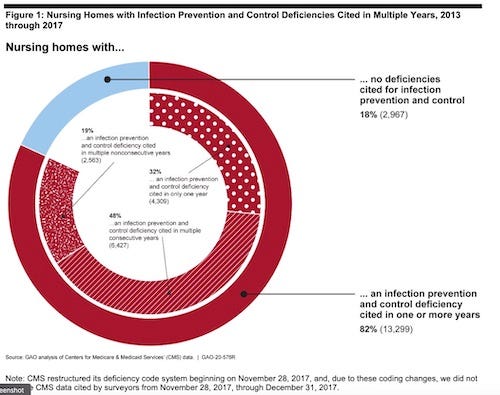 The coronavirus is shining a bright light on many shortcomings in our health care system, and nursing homes head the list. There's nothing new in what I'm about to report - the problems have been known for years and health care advocates have been demanding reforms, to no avail.
Now comes a report from the federal Government Accountability Office (GAO) indicating that 82 percent of nursing facilities nationwide were cited with infection control deficiencies in one or more years between 2013 and 2017, with 48 percent cited in multiple years. The GAO also reported that infection control deficiencies were more common in for-profit nursing facilities and that facilities with overall ratings of five stars on CMS's five-star rating system had fewer infection control deficiencies.
The GAO report comes on the heels of numerous media accounts of problems with infection control measures in nursing homes.
CMS reoriented its inspection practices around infection control in March, but the agency still finds three major areas of "sporadic noncompliance" - hand hygiene, proper use of personal protective equipment (PPE), and cohorting, according to Skilled Nursing News.
The Washington Post also carried a report this week on deficiencies in nursing home infection control; nursing homes where African Americans and Latinos make up a significant portion of residents have been twice as likely to get hit by the coronavirus as those where the population is overwhelmingly white, accoding to The New York Times.
The podcast is on vacation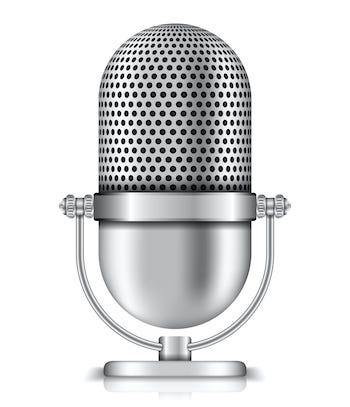 The podcast is on holiday - more episodes coming your way soon.
Meantime, if you missed any recent episodes, you can catch up here:
Not a subscriber yet? Take advantage of a special offer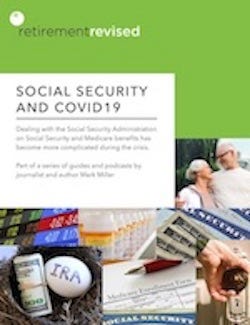 Sign up now for the free or subscriber edition of the newsletter, and I'll email a copy of my latest retirement guide to you. This one looks at dealing with the Social Security Administration during the COVID19 crisis.
Customer service at the Social Security Administration has changed during the coronavirus crisis - the agency closed its network of more than 1,200 field offices to the public in March.
Just a reminder- subscribers, have access to the entire series of guides at any time. Click on the little green button to subscribe, or go here to learn more.