Aug 27, 2020 • 28M
How to not go broke in retirement
Journalist and author Mark Miller on getting retirement right - featuring downloadable guides and podcast interviews with nationally-recognized experts.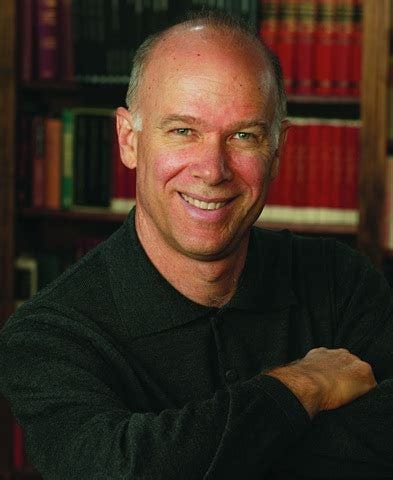 Not going broke in retirement - that sounds like a good plan to me! So this week on the podcast, we'll hear from the author of a new book outlining the instructions for meeting that goal.
Steve Vernon is an actuary by background, and he worked for years as a consultant to large corporate retirement plans before starting his own consumer retirement education firm. He is the author of six books on retirement planning, and also spends part of his time doing research at the Stanford Center on Longevity.
Steve's latest book is Don't Go Broke in Retirement - A Simple Plan to Build Lifetime Retirement Income.
Steve writes that there are five essential decisions to make about your retirement plan:
When to retire

Whether to work part time after you do retire

When to start your Social Security benefits

How to deploy your savings in retirement

How to protect retirement income from a financial crisis.
These decisions are essential now, as we move through the severe recession induced by the pandemic, and I quizzed Steve about how to think about these five guideposts during the current emergency.
Listen to the podcast by clicking the player icon above. The podcast also can be found on Apple Podcasts, Spotify and Stitcher.
Not a subscriber yet? Take advantage of a special offer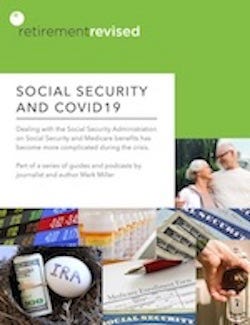 Sign up now for the free or subscriber edition of the newsletter, and I'll email a copy of my latest retirement guide to you. This one looks at dealing with the Social Security Administration during the COVID19 crisis.
Customer service at the Social Security Administration has changed during the coronavirus crisis - the agency closed its network of more than 1,200 field offices to the public in March.
Just a reminder- subscribers, have access to the entire series of guides at any time. Click on the little green button to subscribe, or go here to learn more.
Does Social Security still rely on the postal service?
Top Democrats have been warning that the problems afflicting the United States Postal Service pose will hurt seniors who rely on letter carriers for Social Security checks, medications and other critical mail. There is some evidence already of problems with prescription drug deliveries - but how about Social Security? Should beneficiaries be concerned about a slowdown in mail service?
I took a dive into this for my latest New York Times Retiring column, because my recollection was that most Social Security benefits are delivered electronically these days. Sure enough - 99 percent of all benefits these days are delivered via direct deposit to a checking or savings account, or to a government-sponsored debit card. The Social Security Administration has required electronic delivery since 2013, although some exceptions are made.
But in a system as massive as Social Security, one percent translates to a significant number of people still receiving paper checks - 850,000.
Just as important, Social Security sends and receives millions of pieces of mail every year, including notifications, requests for information, Medicare enrollment forms and replacement Social Security cards. More isolated, rural parts of the country are particularly vulnerable to problems within the postal system. And the shutdown since March of Social Security's national network of field offices because of the pandemic means that more business is being transacted through the Postal Service that normally would be handled through in-person visits.
Learn more in my Retiring column.
Another chat about the pandemic and retirement timing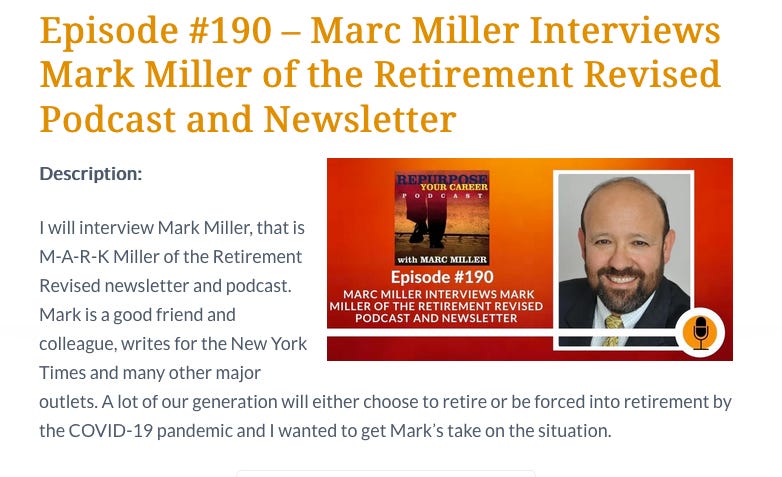 Before the coronavirus pandemic, at least one retirement trend was headed in the right direction: More workers were staying on the job longer, and that was good news for retirement security.
But COVID-19 has stopped that trend in its tracks. An accumulating body of data reflects an acceleration of early retirement as jobless older workers give up on the labor market due to the unique health barriers posed by the coronavirus. This trend will be bad news for the retirement prospects of millions of Americans.
I joined career coach Marc Miller (yes, he uses an incorrect spelling for his name) on his podcast this week to discuss implications of the pandemic for careers and retirement timing. You can catch our conversation here. Or, read my latest Morningstar column, here.
Recommended reading this week
The U.S. Department of Labor's social investing rule is likely to advance despite massive opposition . . . And DoL will hold a hearing on its new fiduciary rule after all . . . Millions of unemployed older workers are struggling to keep their health coverage . . .More than 40 percent of COVID19 deaths are linked to nursing homes . . .Trump sends fast, cheap COVID19 test to nursing homes, but there's a catch . . .Is it time to abolish nursing homes?